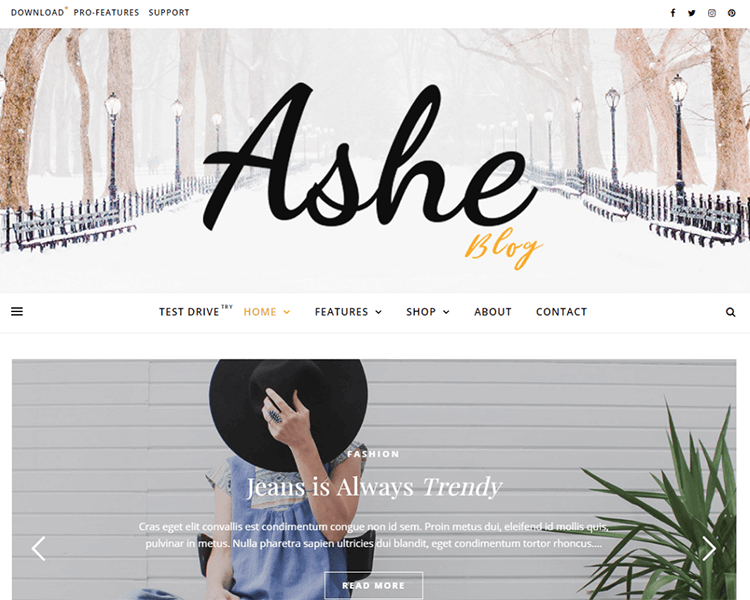 Ashe is a awesome WordPress theme. The theme consist of many kind of features such as Custom Sidebar Areas, Home/Front Page Content, Unique Blog Design, Advanced Slider Options, Added Custom Widgets, Social Media Integration, Translation Ready, Header Options, Footer Options, Advanced Logo Options, Custom Sidebar Areas,  Advanced Slider Options, Added Custom Widgets, portfolio section with masonry layout, team section, testimonial section, counter section, blog section,WooCommerce Ready and many others. Being multipurpose. this theme is used for various purposes. The overall look of the theme can instantly catch the attention of its viewers.
These features make the theme more flexible and stunning. Easily customizable and user-friendly as well. Responsive to any kind of electronic mobile devices like smartphones and tablets. If you are a non-techy then no need to worry since its drag and drop feature will let you manipulate the design as you want or desire. With many additional features, Ashe can be the perfect theme for you if want to make blogging or a news site or a portfolio site of oneself. Overall, a blissful and finest of the free blog WordPress themes for all the bloggers. So, if you are a blogger start blogging with this mystical theme Weblog.
You must log in to submit a review.